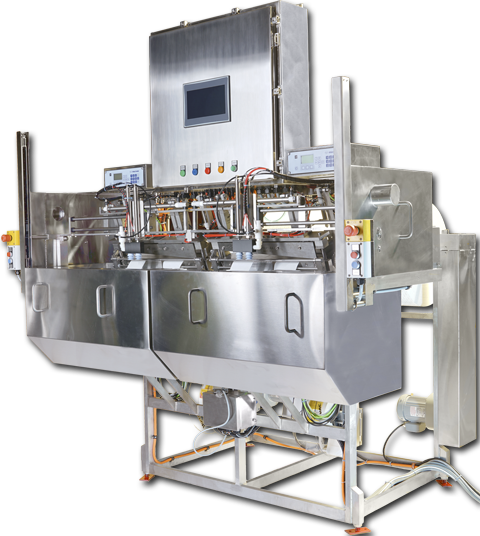 New from Solbern
Automatic Paper Wrapper
&
Labeler
To learn more about this latest innovation,
click on the image above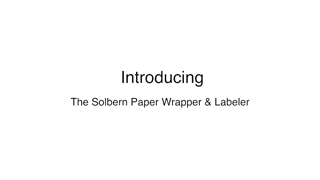 Solbern has been innovating, manufacturing and supplying industrial Food Processing Equipment to the Food Industry for over 60 years. Our Filling Equipment, for container sizes from retail up to #10 cans and gallons, enjoys a reputation for accuracy and durability. Our unique product line includes Container Fillers for free flowing solid products, such as vegetables, pickled products, mushrooms, spices and delicate products. Our Liquid Filling Equipment can add brine, broth or sauce to pre-filled containers or fill non-carbonated liquids. One of our many specialties is filling non-carbonated liquids into aluminum cans at speeds of up to 1,400 cans per minute. Our filling expertise has also expanded to The Pickle Industry, which has benefited from our equipment developments such as, Pickle Packers, Automatic Spear Packers, Spear Cutters, Slab Slicer and Filler and other equipment widely used and recognized.

The popularity of Prepared Foods has provided an opportunity for Solbern to develop equipment to automate the folding or rolling of products such as burritos, egg rolls, taquitos, wraps, blintzes and other dough based wrapped products. With over 170 lanes currently producing these products domestically and internationally, Solbern's position in this field is unmatched. We work with our customers to supply equipment that consistently produces a superior quality product that is consistently uniform in size. This advantage, combined with labor reduction savings, empowers our customers with the competitive edge needed for success in the highly competitive Food Industry.

Solbern is always looking at new applications for our products and new products to develop. If you have equipment needs and cannot find an available solution, please contact us and we will gladly evaluate the possibility of developing equipment for your particular application.

For more information on our products and services, please click on the "contact me" button below and kindly fill out the form provided. Our sales staff will contact you and assist you with our products.